Details

Category: General
Hits: 19846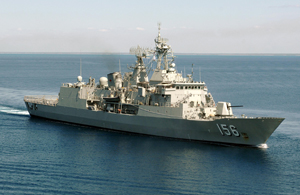 Two Royal Australian Navy (RAN) ships are named after the city of Toowoomba.

HMAS (Her or His Majesty's Australian Ship) Toowoomba 1 (J 157), a Bathurst Class Corvette (aka minesweeper). Built during WWII, it was laid down on 6th August 1940, launched on 26th March 1941, and commissioned on the 9th October 1941. It's service with the RAN ended on 5th July 1946. From there on HMAS Toowoomba 1 was transferred to the Royal Netherlands Navy and renamed Boeroe. Boeroe was decommissioned from the RNN in 1958.

HMAS Toowoomba II (pictured) was laid down on 26th July 2002, launched 16th May 2003, and commissioned on 8th October 2005. HMAS Toowoomba is a long range frigate.

Useful Links:

HMAS Toowoomba 1 (J 157)
HMAS Toowoomba II (FFH 156)

Details

Category: Regional
Hits: 19371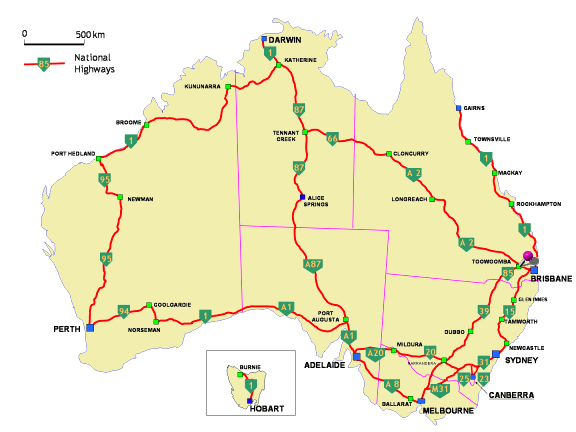 If traveling by coach, Greyhound Australia operates many interstate services from across Australia. Alternatively, flights can be caught from any major capital city to Brisbane and then either a coach or air service from Brisbane to Toowoomba.

If traveling by car, there are many interconnecting highways which feed into the Darling Downs region where Toowoomba is situated.
Useful links: Highways in Australia.

Details

Category: Arts and Literature
Hits: 48689
Toowoomba /tə'wʊmbə/ noun. a city in south eastern Qld on the Great Dividing Range, commercial and industrial centre for the Darling Downs. Pop 75 973 (1991).

- Macquarie A~Z People & Places
Toowoomba |tə'wʊmbə| a town in Queensland, Australia, to the west of Brisbane; pop. 114,479 (2008). It was formerly known as The Swamps.

Details

Category: Arts and Literature
Hits: 12934
Bull's Head Inn
by David Rowbotham
LEANING INTO THE HILLSIDE, IT SEEMS
TOO FRAIL TO HOLD ALL THE MEMORIES AND DREAMS
THAT CLING TO ITS SAGA OF WALLS MORE HARDILY
THAN THE BEAUTY OF THE PEPPERINA TREE
OR THE FELINE STEALTH OF CAT'S-CLAW SCRATCHING YEAR
BY YEAR AT ITS ENGLISH ATTIC-EYES. THESE PEER
WITH CENTURY WISDOM OVER THE DOWNS; NOW DIMMER,
MAYBE, BUT NO LESS AWARE OF THE HARVEST-GLIMMER,
THE NEW FACES, PATTERN OF CHANGE, AND THE BLUE ROAD-
CLEAN CONTRAST TO SULLY-RED - WITH ITS TRAFFIC LOAD,
SWINGING OUT TO WARWICK, SWEEPING BY
TO TOOWOOMBA UNDER THE SUMMER-PURPLE SKY.

GREY SOUVENIR OF UNREMEMBERED DAYS,
BESIDE THE TRANSFIGURED BULLOCK TRACK IT STAYS
THE FINAL CLUTCH OF MODERNITY WITH A QUAINT
WOODEN GESTURE OF GRACE THROUGH ITS WIZENED PARCHMENT
OF PAINT
AND A GENTEEL SUPERIORITY OF AGE
THAT ERASES PAST NOTORIETY. A PAGE
OF HISTORY HEIGHTENED BY A SUBTLE FICTION
IS TURNED IN THE LOCAL DIARY, CRAMMED WITH A DICTION
THAT PUZZLES BUT BABBLES A CHALLENGE TO ARDENT RESEARCH.
A STORY SURVIVES THE CREASE, THE SCRAWL, THE SMIRCH,
SHAPES ON THE TONGUE AND IN THE HEART, REVIVING
SHADOWS OF MEN WHO HERE DESIGNED A LIVING.

TO THE SIGN OF THE TRUCULENT BULL THE LESLIES RODE,
STILL VIGOROUS FROM EXPLORATION; STRODE
BENEATH THE SWINGING BANNER, ITSELF A DUSTY
PIONEER WITH HINGES TURNING RUSTY,
AND TALKED WITH DEUCHAR, DAVIDSON, AND BELL:
POOR ARISTOCRATS IN A WORLD THAT COULD NOT QUELL
THE BLOODED SOUND OF LAUGHTER, PAIN OF ENDEAVOUR,
FOR ALL ITS WILDERNESS. A NEVER-NEVER
OF UNDISCIPLINED COUNTRY SLOWLY YIELDED TO TOIL
AND TO DREAMS ONE VAST COMMUNION OF SOIL
WITH HEART, OF IMMUTABLE STONE WITH MOULDING HAND -
A CONFIRMATION CAME INTO THE LAND.

O SPACIOUS DAYS...SIR JOSHUA'S THOROUGHBREDS
NEIGHED AND CHAMPED IN THE SENILE STABLES THERE, SLEEK HEADS
THRUST OUT SEEKING SUNLIGHT OR THE HARD
SQUATTER'S-FONDLE: AND FROM SANCTUARY OF A BEARD
THE REVEREND BENJAMIN GLENNIE PREACHED IN THE HEAT
OF EIGHTEEN FIFTY-SIX IN A PARLOUR LESS MEET
FOR DIVINITY THAN ABIDING ODOURS OF ALE
OR THE SLAP OF THIGHS AT A CUSTOMER'S PROFANE TALE.
CLARK IRVING. IN SYDNEY ANONYMITY,
"STOOD" FOR THE CLARENCE AND DARLING DOWNS THAT YEAR,
HIS VOTES ASSURED OR LOST WITH THE INN'S BEST BEER
BY LAMPS THAT BURNED FOR PRAYER OR GAIETY...

THE "ROYAL BULL'S HEAD" REMEMBERS IN THE DUSK:
OLD ENGLISH INN - O MAGIC WORDS - WITH THE MUSK
OF FLOWERS IN THE THE WARM AUSTRALIAN EVENING
PERFECTING THE BEAUTIFUL DECEPTION. FLING
THE WINDOWS WIDE: LET THE HARVEST WINDS DALLY
WITH HISTORIC SASHES. THEN ONLY BANGALLY
AND THE GUMS UNDER THE CRYSTAL MOON DENY
THE ALIEN ROMANCE OF THE MIND. AND THE EYE
DARKENS. DISILLUSIONED. BUT MEN'S DESIRES
BRED TRADITION HERE THAT ENDURES AND INSPIRES.
GO. LIFT THE KNOCKER OF CARVED WHITE BRASS AND RAISE
THE PLEASANT GHOST OF REDISCOVERED DAYS.

Details

Category: People
Hits: 11884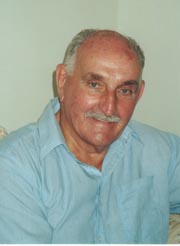 Bruce Dawe (born 15 February 1930, Geelong, Victoria) is an Australian poet, and is considered by many as one of the most influential Australian poets. Dawe began writing poetry at the age of thirteen, under influence of writers such as John Milton and Dylan Thomas. Dawe's poetry revolves around Australian society, politics and culture. Dawe's anti-war poems originate from his experiences during the time of the Vietnam War, and the horror of death is always evident in Dawe's war poems (The Museum Attendant, Turn Again Home, Around El Salvador). Dawe often uses long sentences in his poems, Drifters, which is only two sentences, to preserve the moment and the mood of the poem as most of them occur over a short period of time.

When he was sixteen he left school to become a legal clerk in 1956, but was eventually fired for lack of attention to work. He later worked as a salesman, laborer in a saw mill, office boy, insurance salesman, copy boy with "Truth" and "The Sun" newspapers, then moved to the country to work as a labourer on a dairy farm. Eventually he left the country and worked as a labourer in Melbourne.

When a stint in the RAAF services, he worked as a teacher of English at Downlands College. He taught there for two years, until he was appointed as a lecturer in Literature at Darling Downs Institute of Advanced Education, and later on went to work as a professor at the University of Southern Queensland.