Details

Category: Landmarks
Hits: 25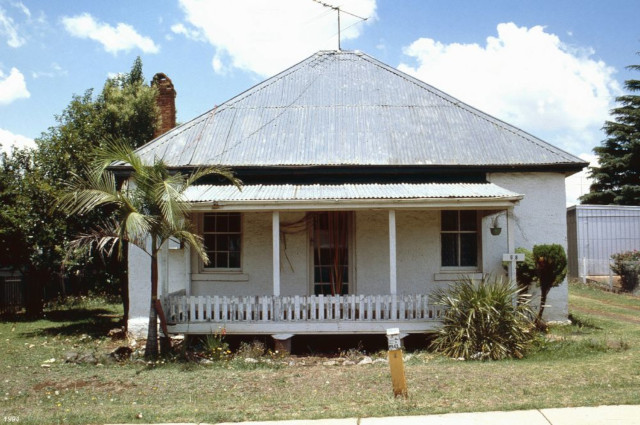 The cottage at 68 Stephen Street is one of the first houses to have been built after the swamp area was cleared and offered for auction. There were a total of 12 lots SA1-SA12 that were offered for auction between 1849 and 1853.
Originally built in the mid 1860s for Charles Taylor as a single story four bedroom stone cottage, improvements made to the building included calico lined ceilings in the 1910s and new bathroom, kitchen and dining areas in the 1920s. The cottage was pre-dated by an earlier timber building built on the same site.
The cottage was built on 15 acres of Suburban Allotment 1 (SA1) on the southern part of the swamp which eventually was gazetted as South Toowoomba.
Taylor died in 1866.
Address: 68 Stephen Street, South Toowoomba Q. 4350
Heritage Listed: 20th February 1995

Details

Category: Landmarks
Hits: 47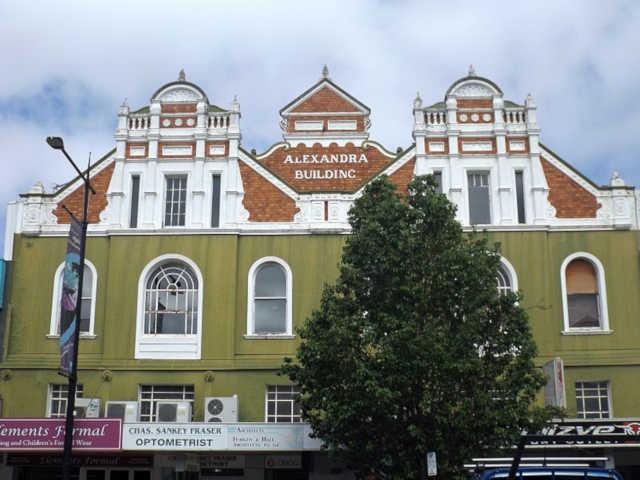 The Alexandra Building is located in Toowoomba City and was designed by architect Henry James Mark and built by James Renwick in 1902.
Businessman Thomas Kelsall (TK) Lamb acquired the site on which the building would be constructed on in 1901. The building has two levels and is primarily constructed of masonry.
Originally intended for multi-use purposes, the ground floor street frontage was for shops, the rear ground level was intended as a cake factory and bakery and the first floor was intended as a ballroom.
After TK Lamb passed away other tenants of the building included draper JM Harris, and 4GR radio station (between 1938 and the mid 1970s).
Address: 451-455 Ruthven Street, Toowoomba City Q. 4350
Heritage Listed: 16th October 2008

Details

Category: Landmarks
Hits: 60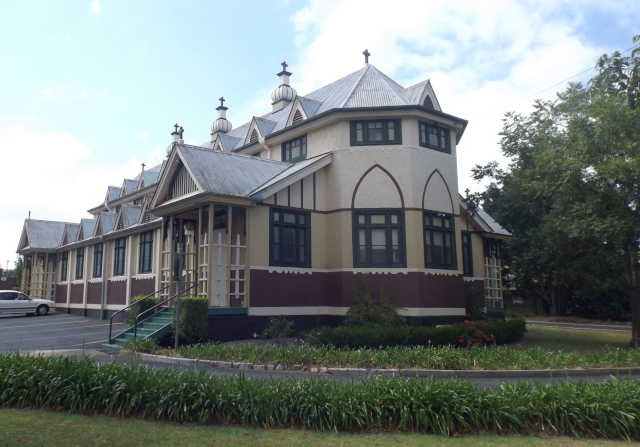 St Luke's Church Hall was designed by prominent Toowoomba architect Harry Marks and built around 1910. It is built on land that was purchased on the corner of Herries and Ruthven Streets by Reverend Benjamin Glennie in 1854. Two acres were purchased at a cost of £8.4 shillings.
Saint Luke's Anglican Church is also located on the same block as the hall. The hall is 24 meters long and 12 meters wide. Other features of the hall include timber floor, timber lined vaulted ceilings. There is also a bell tower.
Address: 152 Herries St, Toowoomba City Q. 4350
Heritage Listed: 21st October 1992

Details

Category: Activities
Hits: 120
Encapsulated in passages of poetry by greats like Bruce Dawe... 'Climbing the range your ears pop like champagne and your heart distends with something other than relief' and George Essex Evans... 'Dark purple, chased with sudden gloom and glory, like waves in wild unrest' are just some attempts to describe Toowoomba's beauty and attraction.
Located a short distance west, inland from the Queensland state capital Brisbane, Toowoomba is the gate keeper of the Golden West, formally known as the Darling Downs which is famous for its rich fertile farming land inherited from the regions volcanic ancestry. In fact Toowoomba sits right on top of a now extinct volcano.
Perched precariously close to the edge of the Great Dividing Range escarpment, Toowoomba commands a dominating position at close to eight hundred meters above sea level and is famous for it's panoramic views and crisp fresh mountain air accompanied by mild year round temperatures.
A well planned city, Toowoomba has streetscapes that are wide, and lined with many large tree species including the popular Camphor Laurel but seldom known fact that they are technically a noxious imported weed and the classic Jacaranda - a native from the Republic of Brazil to name just a few.
Scattered with an abundance of heritage listed buildings from the cities by-gone federation and earlier eras includes a house named Tawa, an example of one of the earliest surviving dwellings established in an area known as Mort Estate.
The Toowoomba area is the traditional homelands of the Giabal, Jagara and Jarowair indigenous tribes. Other tribes of the greater Toowoomba region include the Barunggam, Bigambal, Kambuwal and the Gooneburra peoples. Tabletop mountain is the location where a series of conflicts took place culminating in the infamous 'battle of One Tree Hill' when mean, early white European settlers invaded the area.
Toowoomba's modern settlement traces back to 1827 when English explorer and botanist Allan Cunningham discovered a stretch of rich fertile farming land just to the west of the great dividing range which was named the Darling Downs after NSW state governor Ralph Darling, when Queensland was still a part of New South Wales.
Drayton, the first settlement on the downs, now a suburb of present-day Toowoomba was originally established in 1842 by Thomas Alford, and initially called The Springs.
By 1849 The Springs was growing and a drought ensued, so clearing and draining of swamp lands just a few miles to the North-East of The Springs took place and by 1851 settlers from The Springs purchased new sub-divisions of land and so Toowoomba progressively began to grow developing into a township by 1860 and a city in 1904.
Toowoomba's name was acquired from a word in the aboriginal vocabulary meaning either swamp, reeds, place where melon grows or where the water sits down, but there is no definitive conclusion.
Famous for it spring floral festival the 'Toowoomba Carnival of Flowers' which is a major draw-card that attracts visitors in the tens of thousands to the city and surrounds each year, there is more to this beautiful place than first meets the eye.
Boasting a new airport capable of accommodating jumbo jets, Toowoomba is ideally situated for a short getaway with a lot of fun activities and places to explore any time of the year. Below are some other maybe not so well known hidden treasures and other activities to explore in this beautiful little city. article copyright © 2019 toowoomba.org
Have a bite on East Street (Margaret Street)

Sofra Turkish Cusine

Fitzy's Toowoomba

Cafe Valetta

Jillys Cafe

Park House Cafe

GPO Bar & Cafe
Watch a movie

BCC Grand Central

BCC Cinemas (Toowoomba Strand)
Go for a swim

Milne Bay Aquatic & Fitness Centre
Go touring

Caledonian Estate historic walk

Mort Estate historic walk

Russell Street Historic walk

Newtown historic walk

Queens Park and surrounds historic walk

Cultural and legal precinct walk

East Creek Park and Paddington Estate historic walk

Drayton historic walk
Go bushwalking

Glen Lomod Park

Picnic Point Parklands
Go bowling

Sunset Superbowl

South Toowoomba Bowls Club

Garden City Lanes
Go to a Carnival

Toowoomba Carnival of Flowers
Learn about Toowoomba

Toowoomba historical society

Toowoomba Visitor Information Centre
Visit a park

Queens Park

Newtown state rose Park

Laurel Park

Lake Annand Park

Crows Nest National Park

Ravensbourne National Park
Do some shopping

Grand Central

Clifford gardens

High Street Shopping Centre

Wilsonton Shopping Centre
Admire some artwork

First Coat Street Art Festival

Toowoomba Regional Art Gallery
Visit a church

St Patrick's

St. James Anglican Church

St. Luke's Church
Visit a pub

Irish Club Hotel

The Spotted Cow Hotel

Federal Hotel

Newtown Hotel

Shamrock Hotel Motel
Visit the markets

PCYC Markets

Margaret street markets
Go for a drive

Farmers Country Drive

High Country Drive

Great Bunya country Drive

Open plains country drive

Steele Rudd country drive
Do some exercise

Go for a walk

Go for a run
Enjoy a picnic

Queens Park Botanic Gardens

Laurel Bank Park

Lake Annand

East Creek Park

The Japanese Gardens

Perseverance Dam

Spring Bluff

Webb Park

Queensland State Rose Park

Picnic Point
Step back in Time

Royal bulls head inn

Toowoomba Historical Society
Visit a Museum

Milne bay military museum

DownStream Tourist Railway & Museum

Cobb+Co Museum

Transport and Main Roads Heritage Centre

Met Galleries

Museum of Australian Army Flying
Enjoy a live music event

Toowoomba Busking Festival
Misc.

Jondaryan Woolshed

Spring Bluff Railway Station

The Mills Prescient

Christmas Wonderland

Toowoomba Railway Station

Chocolate Cottage
Visit a lookout

Picnic Point Lookout

Top of Jubilee Park

Webb Park

Biil Goulds Lookout
Join a club

Toowoomba Stamp Club

25th Battalion Association Toowoomba Inc

Apex Club of Toowoomba

Rotary Club

City Golf Club

Toowoomba Police Citizens Youth Club
Go to the races

Clifford Park Race Course
Arts & Crafts

Crows Nest Community Arts & Crafts Centre

Details

Category: Landmarks
Hits: 70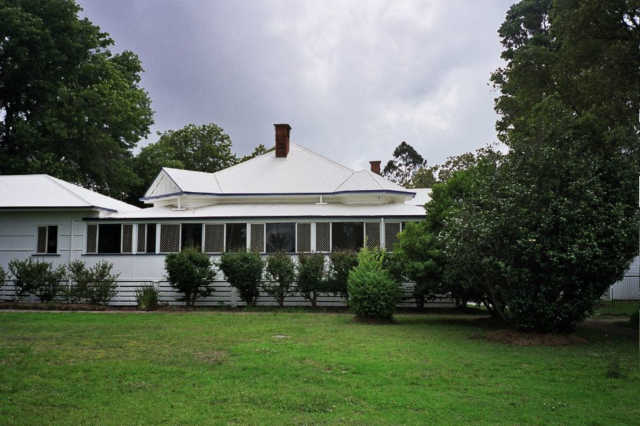 Located in the suburb of East Toowoomba, Unara was built in 1906 for politician Sir Littleton Groom (after which the Australian Electoral Division of Groom in Queensland is named after), who was the son of William Henry Groom.
The site of the building was acquired by Groom in 1904 and Unara was built in 1906 in keeping up with the tradition of the federation design style of era. It is situated in a prominent position on the top of the great dividing range.
Constructed of mostly timber and surrounded by a verandah, extensions were made in 1954 and 1962. The building is enclosed by a large garden, mature trees, substantial lawn and native shrubs.
The building is also sits opposite a park that contains a memorial to Groom.
Address: 9-13 Tourist Road, East Toowoomba
Heritage Listed: 24th March 2000