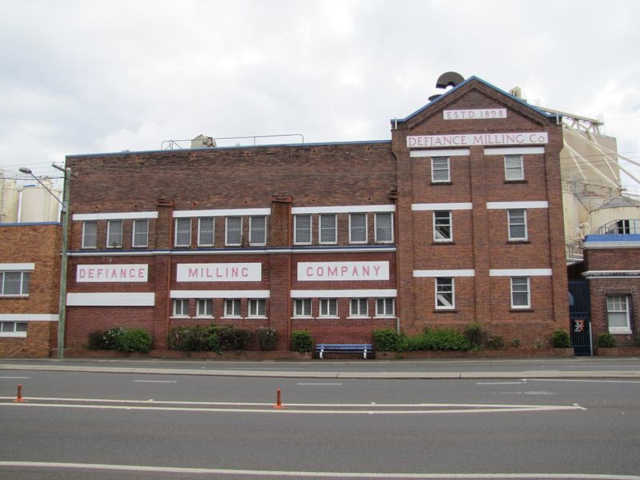 Formed in 1898 as Defiance Milling in partnership with Irish immigrants Patrick & Ellen O'Brien who were married and George Crisp (who owned Dominion Flour Mill).
The company's first mill was established in Russell St, with state of the art milling machinery, and it was not until 1901, when the present location of the Ruthven St mill was purchased.
In 1906 at the age of 63, Patrick passed away, and his wife Ellen played a major roll in the business' expansion.
A new building was erected at the Ruthven St site in 1911 and George Crisp decided to pull out of the business and sell his share of the business to Ellen.
During the mid 1950, the family business changed structure into a company and renamed Defiance Milling Company.
The present day silos at the Ruthven St site were constructed in the 1960s. Also during the 1960, the company became an unlisted public company and became known as Defiance Holdings Pty Ltd.
1976 saw the company list publicly as Defiance Mills Ltd.
During the mid 1980s Defiance was producing fifty percent of all flour manufactured in Queensland.
Defiance was sold to Bunge, a South American company in the late 1990s, who then sold to Goodman Fielder in the early 2000s and operated as a subsidiary (Allied Mills).
Graincorp was the final owner, and the mill stopped producing flour on the 10th January 2011 when milling operations moved to Brisbane in 2012.
Forming part of the Toowoomba Mills Precinct the mill now consists of a number of food and retail outlets.
The Mill was designed by architect William Hodgen, and construction by WT Smith in 1911. It comprises four stories and the building is constructed of bricks.
Listing on the Queensland Heritage Register took place on 26/02/2002
Address: 269-291 Ruthven St, Toowoomba