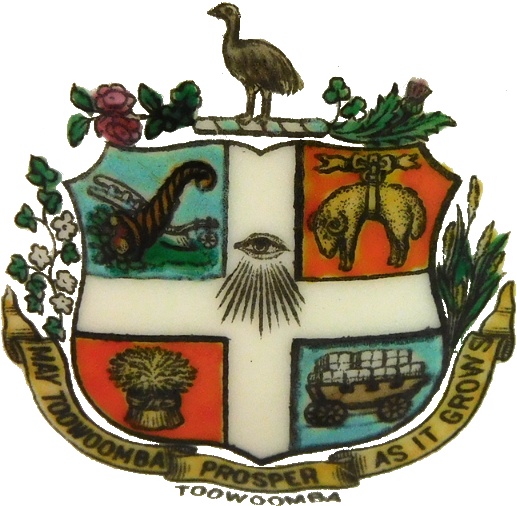 This is an early version of the Toowoomba coat of arms which was used on the original Toowoomba wax seal and dates back to October 1861.

It differs somewhat from the current Toowoomba coat of arms which was granted on the 20th October 1960.
It comprises a crest with an emu standing on a perch as well as floral emblems of England (the Rose) on the left, Ireland (the Shamrock) directly adjacent to both sides of the perch, and Scotland (the Thistle) on the right.
The shield, surrounded by vine branches to the left and corn stalks to the right signifies the regions diverse agricultural production, is divided into four quarters by the St. George's Cross.
The eye of Providence emitting rays of light is located towards the centre of the cross. This is meant to represent God watching over humanity.
The four quarters of the shield starting from the top left corner working clockwise are representative as follows:
Cornucopia (is a horn or horn-shaped basket and a symbol of abundance) & Plough (a farming tool)
Golden Fleece (symbolising pastoral farming)
Rail carriage/cart (symbolising production and trade)
Sheaf of wheat (symbolising the regions crop farming)
The scroll at the bottom of the shield is inscribed with the motto 'May Toowoomba prosper as it grows'
See also: Toowoomba Coat of Arms