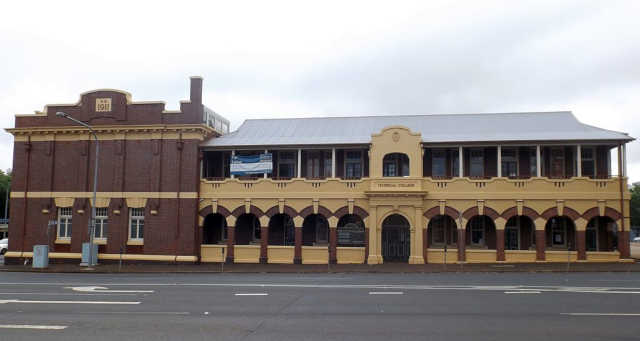 Toowoomba Technical College is also known as the Southern Queensland Institute of Technical & Further Education (SQIT) - Hume Street Campus.
Designed by Thomas Pye, the College was built on land that was acquired in 1908 and is located in a prominent Toowoomba CBD position opposite Queens Park on the corner of Hume & Margaret Streets.
Comprising the original larger main double story building, referred to as Block A which was complemented by two separate smaller single story buildings, one used as a chemistry lab and the other as a carpenters workshop.
Additional buildings were later added - a timber building in 1913 (Block B), a brick classroom in 1931 (Block D) and a wooden building in 1955 (Block C).
Queensland Heritage Listing: 21st October 1992
Address: 124 Margaret St, East Toowoomba