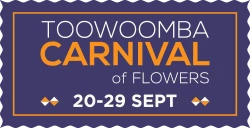 From humble beginnings in 1949, this year the Toowoomba Carnival of Flowers celebrates it's 70th season of showcasing Toowoomba's Garden City heritage.
Created by then local business owner Essex Tait in collaboration with the Toowoomba Chamber of Commerce following World War II to help promote business activity in the region, the very first event in 1950 included a street parade with more than 50,000 attendees, and a garden competition.
Since then the carnival has evolved to include numerous events, with record attendances approaching 200,000 people.
Held in the last full week of September every year.