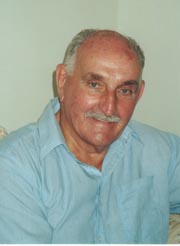 Bruce Dawe (born 15 February 1930, Geelong, Victoria) is an Australian poet, and is considered by many as one of the most influential Australian poets. Dawe began writing poetry at the age of thirteen, under influence of writers such as John Milton and Dylan Thomas. Dawe's poetry revolves around Australian society, politics and culture. Dawe's anti-war poems originate from his experiences during the time of the Vietnam War, and the horror of death is always evident in Dawe's war poems (The Museum Attendant, Turn Again Home, Around El Salvador). Dawe often uses long sentences in his poems, Drifters, which is only two sentences, to preserve the moment and the mood of the poem as most of them occur over a short period of time.

When he was sixteen he left school to become a legal clerk in 1956, but was eventually fired for lack of attention to work. He later worked as a salesman, laborer in a saw mill, office boy, insurance salesman, copy boy with "Truth" and "The Sun" newspapers, then moved to the country to work as a labourer on a dairy farm. Eventually he left the country and worked as a labourer in Melbourne.

When a stint in the RAAF services, he worked as a teacher of English at Downlands College. He taught there for two years, until he was appointed as a lecturer in Literature at Darling Downs Institute of Advanced Education, and later on went to work as a professor at the University of Southern Queensland.