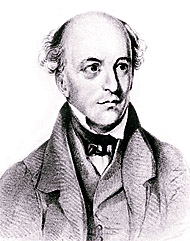 Allan Cunningham (July 13, 1791 – June 27, 1839) was an English botanist and explorer.

Allan Cunningham is primarily known for his travels in New South Wales to collect plants. He went to Brazil between 1814 and 1816, arriving in Australia in December of that year. Among other explorations, he joined John Oxley's 1817 expedition to the Lachlan and Macquarie rivers and travelled as the ship's botanist aboard HMS Mermaid from 1817 to 1820. He also undertook an expedition to what is now Canberra in 1824. He visited New Zealand in 1826.

In 1827 Allan Cunningham set out from the upper Hunter River to explore inside the Dividing Range, discovering the Darling Downs. Cunningham was to return in 1828 from Brisbane to discover Cunningham's Gap. Cunningham travelled on the right hand side of the Gap whereas the highway today runs on the left hand side from the small township of Aratula. Spicer's Gap which runs parallel to Cunningham's Gap was used in coaching days. The peaks on either side of the gap were also named, Mount Cordeaux and Mount Mitchell. In 1829 he explored the Brisbane River.

Cunningham was born in Wimbledon. He was chosen by Joseph Banks to travel abroad to collect plants for the Royal Botanic Gardens, Kew. In 1831 he returned to England, but went back to Australia as Government Botanist in 1837, resigning in the following year. His grave is at the Royal Botanic Gardens in Sydney.