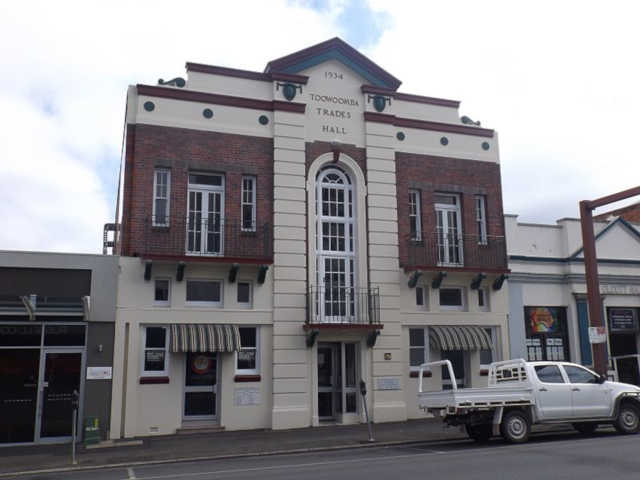 In 1916, land in Bowen Street Toowoomba was earmarked as the site of the Toowoomba Trades Hall, and although the site was purchased it had to be on-sold due to financial reasons by the Toowoomba Trades Hall Board.
A few years later a new site, that of the former Toowoomba Congregational Church at 133 Margaret Street was purchased in 1919. A decade later in 1929 the building was sold as it was considered unfit to serve as a Trades Hall.
Not long after the Margaret St site was sold in 1929, a new site was designated as the location of the new Trades Hall in Russell St which was purchased for £1600.
The Trades Hall building at the Margaret Street site was designed by Matthew Williamson in 1933 and was built in 1934 for £3948 by builder Kell & Rigby.
The building was officially opened on the 14th July 1934 and as well as serving as the main location for union activity, the Toowoomba Trades Hall was also used for other civic purposes.
Heritage Listed: 29th October 2010
Address: 19A Russell St, Toowoomba