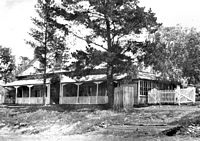 The Royal Bull's Head Inn was built in 1859 by William Horton, an ex-convict from England who was charged with larceny.
William built the inn at a location known as 'The Springs' later renamed Drayton, the first area of the Toowoomba region to be settled.
The inn was ideally situated as Drayton was part of the thoroughfare between Brisbane and the Darling Downs region.
It was extended in the late 1850's, although by this time, Toowoomba, then known as 'The Swamp' was already established and expanding fast.
The Inn was acquired by the National Trust of Queensland in 1973 after the last surviving member of William's immediate family, his son Alan Lynch died.
The ground floor was renovated in 1984, and the top floor in 1987.
The University of Southern Queensland conducted archaeological excavations in 2014 to uncover any artifacts pertaining to the Inn's history, although archaeological excavations had also been conducted in the 1970's.