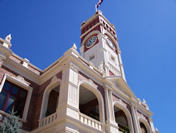 Toowoomba is a picturesque mountain city located in south east Queensland some 127Km west of the states capital, Brisbane.

Clinging to the edge of the Great Dividing Range escarpment at an altitude of seven hundred meters above sea-level, the city affords breathtaking views of Table Top Mountain and the Lockyer Valley region across the east.

The city covers an area of approx. 117 Sq Km and is centred at the intersection of the Warrego and New England highways.

Toowoomba's climate can best be described as pleasant with temperature ranges averaging a cool 5°C to 16°C in winter and a mild 17°C to 27°C in summer.

With a population of over 90,000 people, Toowoomba is Australia's largest inland regional city and is the commercial and economic hub of the Darling Downs, thereby serving a population in excess of 250,000 people.

Major industries include manufacturing, wholesale, agriculture and with more than 23 private schools, a technical college, and university, Toowoomba can be considered a major educational centre.

Toowoomba's origin dates back to 1827 when Allan Cunningham, an English explorer discovered a vast expanse of rich farming land which he named the 'Darling Downs' after then Governor of New South Wales, Sir Ralph Darling.

One of the first settlements on the Downs, 'The Springs', to be renamed Drayton soon thereafter was established in 1842. Over the next decade Drayton would grow to become well established, but a drought in 1850 saw many re-settle a few miles to the north-east to an area that was seldom visited.

Known as 'The Swamp', one of the first to take up residence there was Thomas Alford. Arriving to The Swamp from Drayton in 1852 he established a house and shop which he named Toowoomba, and hence the cities eventual namesake.

The derivation of the name Toowoomba is ambiguous, though the most widely accepted theory is that it's more or less a pronunciation of the Aboriginal word for 'The Swamp'.

Throughout the second half of the nineteenth century, Toowoomba would prosper, being proclaimed a municipality in 1860, a township in 1892, and a city in 1904.

There are many things to see and do in Toowoomba all year round. In spring time, Toowoomba's parks and gardens become vibrant and ablaze with colour and life, and to celebrate Toowoomba's status as "The Garden City", every year in September the Carnival of Flowers is held, with a street parade, and other activities.