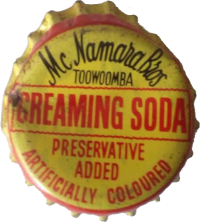 McNamara Bros. Soft Drinks was established in 1892 in Toowoomba, Queensland.
Originally founded in Ruthven St, McNamaras' moved to Telford Street in 1940 where they remained until the early 1990s when the business ceased operations.
Some of the different cordial flavors produced by McNamara Bros. Soft Drinks included Lemon, Lime, Peppermint, Caramel, Cloves, Chilli Punch, Fruit Cup, Vanilla, Strawberry, Pineapple, Orange and Sarsaparilla
They also produced soft drinks including Creaming Soda.
Mmm! Natural and full of goodness.
phone: (076) 32 3207
address: 3 Telford St TOOWOOMBA