Details

Category: Miscellaneous
Hits: 30641
Established (Constituted a City):



Original Inhabitants:


Escarpment area: Jagara
Toowoomba region: Giabal
Northern region: Jarowair


Current Mayor:




State Electoral Divisions:


Toowoomba North
Toowoomba South

Federal Electoral Division:




Cadastral Division of Queensland:


County of Aubigny
Parish of Drayton


Geographical Details:


Latitude: 27.5828 °S
Longitude: 151.9308 °E
Elevation: 674.9 m
Total area: 117 Sq Km

Climatic Details:


Average annual rainfall: 950mm
Average annual max temp: 22.6 °C
Average annual min temp: 11.4 °C


Telephone Dialing Codes:


Country code: +61
Area code: 7
Prefix's: 45, 46, 75, 76


Airport Information:


Toowoomba Aerodrome

Address: Mutze St opposite the Department of Main Roads
Name : (TWB) Toowoomba Airport
Location : Toowoomba QLD, AU
Latitude : -27.542221
Longitude : 151.9139
FlightStats Code: TWB
IATA Code: TWB
ICAO Code: YTWB
FAA Code:
Time Zone: +10:00 hours from UTC/GMT
Brisbane West Wellcamp Airport (WTB)

Address: 1511 Toowoomba-Cecil Plains Rd, Wellcamp QLD 4350
Name: Brisbane West Wellcamp Airport (WTB)
Location: Wellcamp AU
Latitude: -27.55861
Longitude: 151.795
FlightStats Code: WTB
IATA Code: WTB
ICAO Code:
FAA Code:
Time Zone: +10:00 hours from UTC/GMT


Standard Time Zone:




State:




Postcode:




Title:


The Garden City (of Queensland)


Sister Cities:


Wanganui, New Zealand (1981)
Takatsuki, Japan (1991)
Paju, South Korea (2002)


Population:


Cambooya (SLA): 4,891
Gowrie (SLA): 5,511
Highfields (SLA): 11,225
Toowoomba Central (SLA): 14,439
Toowoomba North East (SLA): 11,104
Toowoomba North West (SLA): 19,822
Toowoomba South East (SLA): 28,941
Toowoomba West (SLA): 24,343
Westbrook (SLA): 8,324
Toowoomba (SSD): 128,600 (Total of SLA's)
Toowoomba (LGA): 159,098 (Total for TRC Area)

LGA: Local Government Area, SSD: Stastistical Subdivision, SLA: Statistical Local Area

All figures based on Australian Bureau of Statistics (ABS) data as of 2009.


City Colours:




City Motto:


Prodimus Dum Crescimus (We prosper as we grow)


Floral Emblems:


Sweet Violet (Viola odorata) A.K.A Toowoomba Violet
Golden Wattle (Acacia pycnantha)


Major Events:


Carnival of Flowers
Royal Toowoomba Show
Australian Gospel Music Festival
Farmfest
AgShow


Key Industries (TRC Area):


Manufacturing: $AU945.2
Health Care & Social Assistance: $AU639.0
Financial & Insurance Services: $AU631.8
Public Administration & Safety: $AU527.0
Education & Training: $AU456.6
Retail Trade: $AU444.6
Wholesale Trade: $AU415.0

All figures are in millions of dollars and based on 2009/2010 ABS data.


Business Activities (TRC Area):


Gross Regional Product (GRP): $AU7.7 billion (2009/2010)


Property Market (TRC Area):


Median House Price: $AU292,000 (Year to Sep 2010)


Water Supply:


Cooby Dam : 21,166 ML (1941)
Perseverance Dam : 30,140 ML (1965)
Cressbrook Dam : 81,842 ML (1983)


Awards:


Twice voted: Best city to live in Australia.


Suburbs (alphabetical order):




Coat of Arms:




Toowoomba Flags:




HMAS Toowoomba Badges:


HMAS Toowoomba I badge
HMAS Toowoomba II badge


Please report inaccuracies and/or provide feedback.

Details

Category: Education
Hits: 164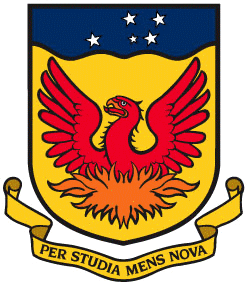 Based in Toowoomba Queensland, the University of Southern Queensland (USQ) was originally established as the Darling Downs campus of the Queensland Institute of Technology in 1967.
As time passed it would become Darling Downs Institute of Advanced Education (DDIAE) in 1971, University College of Southern Queensland (UCSQ) in 1990, and finally the University of Southern Queensland (USQ) in 1992.
The university has a total of three campuses spread out across Toowoomba, Springfield, Ipswich.
Courses at the university include law, health, engineering, the sciences, business, education, the arts.
One of the attractions of the university is its Japanese Garden, one of, if not the largest Japanese garden in Australia.
Student enrollments is approximately 28,000 annually, a ratio of 85% domestic, 15% overseas students.
In 2017, the university had a revenue in excess of $320 million dollars.
The Latin motto of the university 'Per Studia Mens Nova' translates to 'Through study the mind is renewed'.
address: 487-535 West Street, Kearneys Spring QLD 4350 Australia

Details

Category: History
Hits: 256
Harlaxton House is a single story house constructed of red stone quarried from Harlaxton.
The original architect who designed the house is unknown, although construction was completed in approximately 1870, and is of Victorian Gregorian style architecture.
Built as the primary residence of Australian explorer and politician Francis Thomas Gregory and his wife, the house was also rented to governor of Queensland Lord Lamington, purportedly where the Lamington cake was invented.
The building is not used specifically for any particular purpose at this point in time.
Heritage listed: 21/10/1992
Address: 6 Munroe St, Harlaxton Queensland 4350

Details

Category: Landmarks
Hits: 265
Clifford House was also known as St James' Palace and was the main residence of James Taylor and his family until his passing.
The land on which Clifford House resides on was originally granted to William Horton in 1852.
Originally intended as a gentleman's club, construction was completed in the second part of the 1860s.
For the most part, significant renovations have been made internally over the years, though externally the building has remained largely untouched.
Current usage of the building is by the Queensland government
Listing on the Queensland Heritage Register took place on the 21st October 1992.
address: 120 Russell St, Toowoomba QLD 4350

Details

Category: Accommodation
Hits: 231
Vacy Hall was designed by James Marks and built by Alexander Mays in 1899.
Listed on the Queensland Heritage Register as of the 21st of October 1992 due to the influential persons associated with the building at the time namely Gilbert Gostwyck Corey and his wife Ann Sophy (who was the daughter if James Taylor A.K.A 'King of Toowoomba'
Many characteristics of the building make it unique and and give it an overall significance including it's location, 'L' shaped design, a gable, led light entrance, encircling verandah, substantial English garden, gravel entrance drive way and more.
Today, the building is predominantly used for guest accommodation.
Address: 135 Russell St, Toowoomba City QLD 4350