Details

Category: Accommodation
Hits: 300
Vacy Hall was designed by James Marks and built by Alexander Mays in 1899.
Listed on the Queensland Heritage Register as of the 21st of October 1992 due to the influential persons associated with the building at the time namely Gilbert Gostwyck Corey and his wife Ann Sophy (who was the daughter if James Taylor A.K.A 'King of Toowoomba'
Many characteristics of the building make it unique and and give it an overall significance including it's location, 'L' shaped design, a gable, led light entrance, encircling verandah, substantial English garden, gravel entrance drive way and more.
Today, the building is predominantly used for guest accommodation.
Address: 135 Russell St, Toowoomba City QLD 4350

Details

Category: History
Hits: 551
Unveiled by Queensland Governor Sir Matthew Nathan in 1922 after the mothers of soldiers from Toowoomba and surrounding districts who did not return from WWI decided to fund and build the memorial in honor of their sons.
Sweet violets which would eventually become known as the Toowoomba Violet and be adopted as Toowoomba's floral emblem were sold in 1914 to raise funds to build the memorial, .
Originally located at the intersection of the cities main intersection of Ruthven and Margaret St, the eight-metre high memorial was relocated and re-dedicated to its current location at East Creek Park on the 10th November 1985 due to traffic congestion.
ANZAC day commemorations have taken place at the memorials location since 1916.
address: East Creek Park, Margaret St, Toowoomba

Details

Category: Landmarks
Hits: 625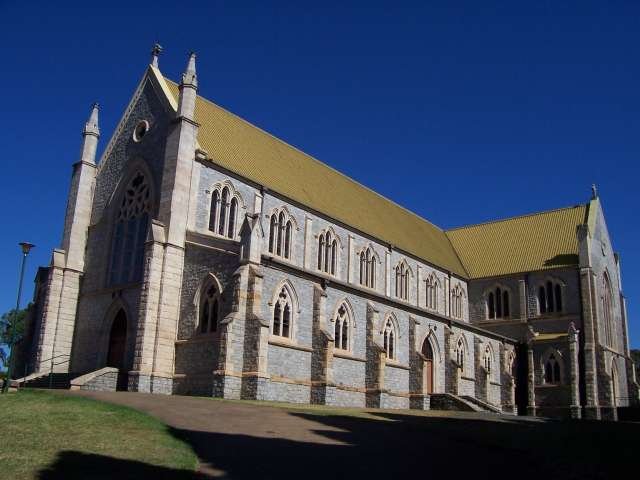 St. Patrick's Cathedral Toowoomba is named after Pātricius, a missionary born in Roman-Britan in the later part of the fourth century, and passed away on March 17, 460AD.
Originally designed by architect James Marks. It is based on a Neo-Gothic design and is made of bluestone. Replacing two prior churches made of timber on the same location years earlier, the foundation stone for the present day St Pat's building was laid in 1883. Once construction was completed, the church was officially opened on St. Pat's day in 1889.
Further expansions to the cathedral commenced in 1929 and completed in 1935. Extensive renovations were undertaken in 1972. The church celebrated its centenary in 1989 and as part of the commemorations a new bell tower was constructed. The cathedral is listed on the Queensland Heritage Register as at the 21/10/1992.
address: 123 Neil St, Toowoomba
internet: www.stpats.org.au
phone: 07 4637 1500

Details

Category: History
Hits: 627
Located on 138 Margaret St, the old Toowoomba post office was designed in 1877 by Queensland architect FDG Stanley with tenders to build put out in 1878.
Constructed with sandstone quarried from Highfields, it is based on a revivalism style architecture and includes a clock tower 17 meters in height designed by London company, Bland.
With the building completed in 1880, the total cost of construction was approximately £8,100.
Following the relocation of the post office in 1999, the building was sold off in 2001, and it's present day usage includes commercial premises and a cafe.
In 2003 the building was listed on the Queensland Heritage register.

Details

Category: History
Hits: 783
Based in Toowoomba, The Queensland Transport and Main Roads Heritage Centre presents an insight into Queensland's road construction history.
Information about the planning, design and construction processes that were used over the years.
On display are photographs, multimedia, historical artifacts, stories and more.

address: 2–22 Mutze Street, opposite the Toowoomba airport.
website: Heritage Centre
phone: 07 4633 2506
e-mail: This email address is being protected from spambots. You need JavaScript enabled to view it.