Details

Category: Education
Hits: 99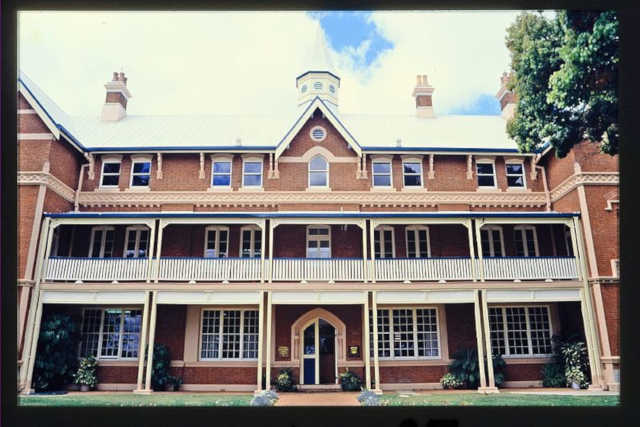 Toowoomba Grammar School was established under provisions of the Queensland Governments Grammar Schools' Act of 1860.
The school is built on 50 acres of land that was initially allocated for a Toowoomba recreational park (known as the Old Queens Park) in 1861.
Designed by architect Willoughby Powell, construction of the first building was completed in 1876 and is known as the School House was established in 1875 when the foundation stone was laid.
Additional buildings were added to the school between 1875 and the 1940. Although Toowoomba Grammar School is on the Queensland Heritage Register, it is not the entire school, only several buildings.
First Students began attending the school on 1st February 1877.
The motto of the Toowoomba Grammar School is the Latin 'Fidelis in Omnibus' (Faithful in All Things).
Address: 24 Margaret St, Toowoomba QLD
Queensland Heritage Register: 21st October 1992

Details

Category: History
Hits: 107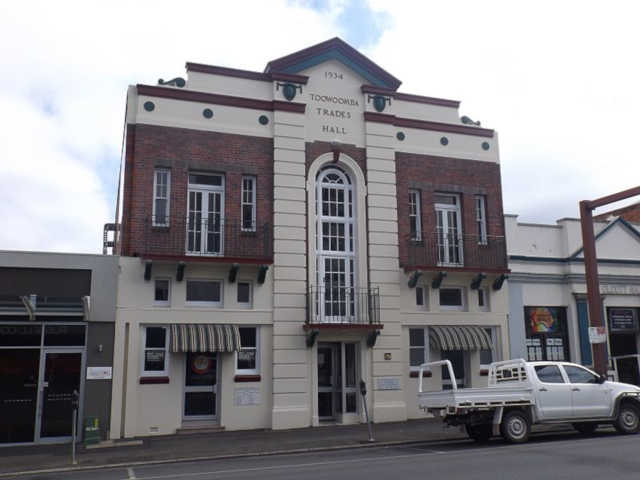 In 1916, land in Bowen Street Toowoomba was earmarked as the site of the Toowoomba Trades Hall, and although the site was purchased it had to be on-sold due to financial reasons by the Toowoomba Trades Hall Board.
A few years later a new site, that of the former Toowoomba Congregational Church at 133 Margaret Street was purchased in 1919. A decade later in 1929 the building was sold as it was considered unfit to serve as a Trades Hall.
Not long after the Margaret St site was sold in 1929, a new site was designated as the location of the new Trades Hall in Russell St which was purchased for £1600.
The Trades Hall building at the Margaret Street site was designed by Matthew Williamson in 1933 and was built in 1934 for £3948 by builder Kell & Rigby.
The building was officially opened on the 14th July 1934 and as well as serving as the main location for union activity, the Toowoomba Trades Hall was also used for other civic purposes.
Heritage Listed: 29th October 2010
Address: 19A Russell St, Toowoomba

Details

Category: Education
Hits: 124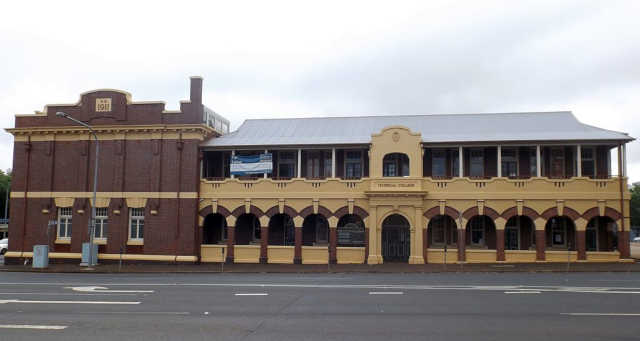 Toowoomba Technical College is also known as the Southern Queensland Institute of Technical & Further Education (SQIT) - Hume Street Campus.
Designed by Thomas Pye, the College was built on land that was acquired in 1908 and is located in a prominent Toowoomba CBD position opposite Queens Park on the corner of Hume & Margaret Streets.
Comprising the original larger main double story building, referred to as Block A which was complemented by two separate smaller single story buildings, one used as a chemistry lab and the other as a carpenters workshop.
Additional buildings were later added - a timber building in 1913 (Block B), a brick classroom in 1931 (Block D) and a wooden building in 1955 (Block C).
Queensland Heritage Listing: 21st October 1992
Address: 124 Margaret St, East Toowoomba

Details

Category: History
Hits: 78
Listed below is a near complete index of Toowoomba buildings and locations detailed on the Queensland Heritage Register.
The aim of this article to provide a link to a more detailed narrative of each of these heritage listed locations.
Currently, this is a work in progress and if you can assist, please contact me.
Toowoomba Permanent Building Society (former)
Toowoomba East State School
Toowoomba South State School (former)
Toowoomba North State School
Baillie Henderson Hospital
Tyson Manor - Strathmore
Exchange Building
Smithfield House
Tawa
Gowrie House
Kensington
Carlton House
Soldiers Memorial Hall
Gladstone House and Cottage
Whyembah
Glen Alpine
Fernside
Bishop's House
Concordia College Administration Centre
White Horse Hotel
Wesley Uniting Church
Unara
St Luke's Church Hall
Alexandra Building
Cottage (68 Stephen Street)
Elphin
Karingal Chambers
St James Parish Hall
Weetwood
Oak Lodge and Spreydon
Millbrook
Ascot House
Boyce Gardens
Pigott's Building
The Downs Co-operative Dairy Association Limited Factory (former)
Tor
Geeumbi
Rodway
St James Church
Wislet (Former Wesley Hospital)
O'Shea's Drayton Cottage
St Matthew's Church of England
Gabbinbar
Harristown State High School
Main Range Railway

Details

Category: History
Hits: 68
The Caledonian Estate is an area in East Toowoomba bound by Burstow St to the west, Herries Street to the south, Lindsay Street to the east and Austral Lane to the north.
The estate is named after the Caledonian Society, which is the formation of a group of people of Scottish ancestory who observe Scottish traditions. The estate is the area in Toowoomba that was used by the Caledonian Society for their sporting activites.
Many of the buildings in the estate have unique character from the era. Some of the unique landmarks in the area include the Toowoomba Gaol, Toowoomba Mothers Memorial and the camphor laurel lined Herries Street.
The Caledonian Estate is part of Toowoomba's Historic Walks. For more information please follow this link: Historic Walks.