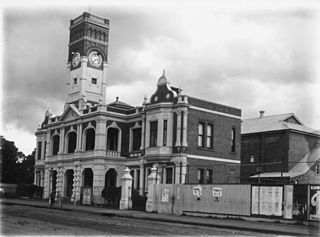 The Toowoomba City Hall is the seat of the City Council of Toowoomba, Queensland , Australia. It is located on the 153 Herries Street and on 543 Ruthven Street. The building is the location for the proclamation that Toowoomba was a city and was the first purpose built city hall ever constructed in Queensland.
History
Tenders were called for the construction of a town hall in 1861. It was built by Frederick Stein in 1862 in James Street. The first City Hall was a timber building, which was demolished and replaced in 1881 by a brick building. The School of Arts in Ruthven Street was destroyed by fire in July 1898. The local Council agreed that new municipal buildings and a Town Hall should be built on the place of the School of Arts which had been destroyed that year, pending the sale of the old Town Hall to the Roman Catholic Church for £ 2,000.

The new building was designed by the Brisbane architect Willoughby Powell. In 1900 was inaugurated the present Town Hall at a cost of £ 10,000. The exterior of the building was restored to its original state in 1997. It now houses a regional art gallery and theatre.
The photo of the city hall above was taken in 1915.