Details

Category: People
Hits: 6482
Thomas Alford was a pioneer settler of the Toowoomba region. Arriving in Sydney Australia on the 21/01/1839. He left for Brisbane on 21/03/1842 with his wife and children following a few months later. In the same year Thomas decided it was time to resettle in the newly discovered Darling Downs relocating his family to Cambooya and establishing a store. Half a year had passed, and realizing his choice of location for his store was maybe not the best, he once again up lifted the family moved to new location about 15Km north of Cambooya, to the Springs.

Things were looking up for Thomas and by 1845 he received a license so that his store was also a post office. In the same year Thomas' choice of name of Drayton for the township was recognized on official documentation.

Two years later in 1847 Thomas had conceived three more children children in Drayton, which by now had a population of about fifty.

Steadily the new township was growing and Thomas help establish a school in 1851, by now the population was about two hundred people.

After becoming insolvent Thomas moved the family a bit further north to another area know as the Swamp and re-established himself and opening a new shop. He had apparently named his new shop and house 'Toowoomba'.

It was here that Thomas' sixth child, Henry King Alford, the first white child to be born in Toowoomba.

After further business setbacks Thomas eventually established a successful auction business.

Thomas also made many contributions to community affairs that ultimately helped establish Toowoomba's prosperity.

Thomas died at the age of 48 in the year 1864. His wife lived to the age of 88 and died on the 12/10/1905.

They are both buried at the Toowoomba Cemetery.

Details

Category: Arts and Literature
Hits: 18929
Provincial City
by Bruce Dawe
Climbing the range
your ears pop like champagne
and your heart distends
with something other than relief.
You can smell the peace up here.
The proportion, the narrowness.
Traitor, traitor, whines the piano-wire voice
as you swing past the Welcome sign

To find nothing is changed.
Overhead the clouds boil past,
low, friendly, meaning no harm.
The thunder moving into position

Shortly after five o'clock is stolid
as a furniture removalist.
The lightning jerks its thumb:
Over here, Fred.

When it rains
the gutters run red
but it's innocent. Dogs and magpies
the red soil stains.

In season the currawongs in the camphor-laurels
cry like tin-shears.
(The jacarandas hang their sheets
of blue water in mid-air.)

Down James Street the semis hurtle
nightly, brutalising through the quiet
civilised dark like the Eumenides,
or conscience, or history.

Here the elderly come to convalesce
after life's anxious illness; the young
leave daily for the Cities of the Plain
where there is work (or the hope of it).

On the hillside at Drayton
the cemetery glitters like a dream;
asterisks of light
on the wind-screens of mourners' cars

Glint remotely as stars
in a heaven-deep well.
We will never get there.
This is a city which is all present:

It moves, but oh so slowly
you would have to sleep years,
waking suddenly once in a decade
to surprise it in the act of change.

Saturday night, in the main street kerb,
the angle-parked cars are full of watchers,
their feet on invisible accelerators,
going nowhere, fast.

Details

Category: Dining
Hits: 13997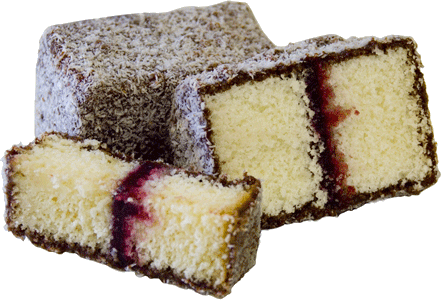 Toowoomba is said to be home to the humble Australian cake, the Lamington. Although this seems to be a disputed fact amongst other Australian and overseas places who also lay claim to being the originator of the Lamington, the proof seems to weigh more towards Toowoomba than any other place.

Lamingtons are so named after Charles Cochrane-Baillie (2nd Baron Lamington) who was governor of Queensland from 1896-1901.

The story goes something like this:

During the Summer months, the Governor would escape the higher temperatures of Brisbane and retreat to Harlaxton House in Toowoomba where the climate was much more comfortable and relaxing.

While there one day, the Governors chef, Armand Gallad was requested to serve desert at a moments notice for unscheduled guests.

With what limited ingredients the chef was able to find in the kitchen and a bit of imagination the Lamington was born. The chef was able to cut up some left over sponge cake into cubes, dip them into melted chocolate, and whether by accident or intention drop the chocolate dipped cake into a bowl of desiccated coconut.

Furthermore the guests were so impressed, they requested the receipt which spread to become a popular Australian icon as it is today.

There are other variations to this story, and some totally different theories as well as to where and how the lamington was made.
Useful links: Lamington on Wikipedia, Lord Lamington.

Details

Category: People
Hits: 9860
Henry King Alford (1852–1930) was the mayor of Toowoomba, Queensland from 1911-1912. He was born on 22 July 1852 to Thomas Alford, a pioneer in the Toowoomba district, and is reputed to be the first white child born in Toowoomba. He worked at the Australian Joint Stock Bank as a young man before becoming involved in real estate. He died on 19 August 1930.

Details

Category: Regional
Hits: 19088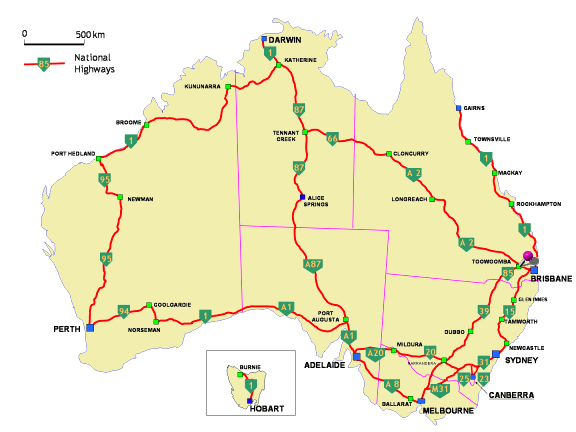 If traveling by coach, Greyhound Australia operates many interstate services from across Australia. Alternatively, flights can be caught from any major capital city to Brisbane and then either a coach or air service from Brisbane to Toowoomba.

If traveling by car, there are many interconnecting highways which feed into the Darling Downs region where Toowoomba is situated.
Useful links: Highways in Australia.