Home

Carnival of Flowers
Details

Category: Events
Published: 28 January 2012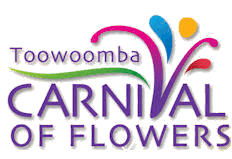 It was Toowoomba's status as the "Garden City" which inspired Essex Tait to suggest the city hold an annual carnival in order to help promote business within the city.

The event first premiered in the Spring of 1950 and was such a resounding success that it has been held every year since.

The Toowoomba Carnival of flowers is held in the last full week of September and comprises of a street parade along with other activities.
This year marks the 64th anniversary of the annual Toowoomba Carnival of Flowers which will be held from Friday 20th September until Sunday 29th September 2013. A spectacular celebration of the Garden City, with flowers, food, and entertainment.
If you would like more information on this fantastic event, then please visit the official website.
Most of all though, remember to have lots of fun and enjoy.