Details

Category: Environmental
Published: 28 January 2012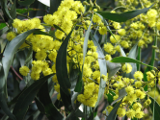 Golden Wattle (Acacia Pycnantha) is one of two Toowoomba floral emblems, the other being the Sweet Violet. The native plant was officially adopted as Australia's floral emblem in 1988. It is quite common to the Toowoomba region. The plant is characterized by it's bright yellow, fragrant flowers. It can grow between two and eight meters high.

Useful links: Acacia Pycnantha on Wikipedia.