Details

Category: General
Published: 28 January 2012
Toowoomba is a picturesque mountain city located in south east Queensland some 127Km west of the states capital, Brisbane.

Clinging to the edge of the Great Dividing Range escarpment at an altitude of seven hundred meters above sea-level, the city affords breathtaking views of Table Top Mountain and the Lockyer Valley region across the east.

The city covers an area of approx. 117 Sq Km and is centred at the intersection of the Warrego and New England highways.

Toowoomba's climate can best be described as pleasant with temperature ranges averaging a cool 5°C to 16°C in winter and a mild 17°C to 27°C in summer.

With a population of over 90,000 people, Toowoomba is Australia's largest inland regional city and is the commercial and economic hub of the Darling Downs, thereby serving a population in excess of 250,000 people.

Major industries include manufacturing, wholesale, agriculture and with more than 23 private schools, a technical college, and university, Toowoomba can be considered a major educational centre.

Toowoomba's origin dates back to 1827 when Allan Cunningham, an English explorer discovered a vast expanse of rich farming land which he named the 'Darling Downs' after then Governor of New South Wales, Sir Ralph Darling.

One of the first settlements on the Downs, 'The Springs', to be renamed Drayton soon thereafter was established in 1842. Over the next decade Drayton would grow to become well established, but a drought in 1850 saw many re-settle a few miles to the north-east to an area that was seldom visited.

Known as 'The Swamp', one of the first to take up residence there was Thomas Alford. Arriving to The Swamp from Drayton in 1852 he established a house and shop which he named Toowoomba, and hence the cities eventual namesake.

The derivation of the name Toowoomba is ambiguous, though the most widely accepted theory is that it's more or less a pronunciation of the Aboriginal word for 'The Swamp'.

Throughout the second half of the nineteenth century, Toowoomba would prosper, being proclaimed a municipality in 1860, a township in 1892, and a city in 1904.

There are many things to see and do in Toowoomba all year round. In spring time, Toowoomba's parks and gardens become vibrant and ablaze with colour and life, and to celebrate Toowoomba's status as "The Garden City", every year in September the Carnival of Flowers is held, with a street parade, and other activities.
Details

Category: Environmental
Published: 28 January 2012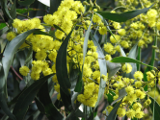 Golden Wattle (Acacia Pycnantha) is one of two Toowoomba floral emblems, the other being the Sweet Violet. The native plant was officially adopted as Australia's floral emblem in 1988. It is quite common to the Toowoomba region. The plant is characterized by it's bright yellow, fragrant flowers. It can grow between two and eight meters high.

Useful links: Acacia Pycnantha on Wikipedia.
Details

Category: Literature
Published: 28 January 2012
Toowoomba /tə'wʊmbə/ noun. a city in south eastern Qld on the Great Dividing Range, commercial and industrial centre for the Darling Downs. Pop 75 973 (1991).

- Macquarie A~Z People & Places


Toowoomba |tə'wʊmbə| a town in Queensland, Australia, to the west of Brisbane; pop. 114,479 (2008). It was formerly known as The Swamps.

- iPad definition
Details

Category: Events
Published: 28 January 2012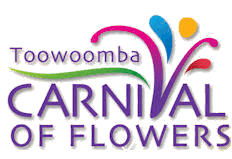 It was Toowoomba's status as the "Garden City" which inspired Essex Tait to suggest the city hold an annual carnival in order to help promote business within the city.

The event first premiered in the Spring of 1950 and was such a resounding success that it has been held every year since.

The Toowoomba Carnival of flowers is held in the last full week of September and comprises of a street parade along with other activities.
This year marks the 64th anniversary of the annual Toowoomba Carnival of Flowers which will be held from Friday 20th September until Sunday 29th September 2013. A spectacular celebration of the Garden City, with flowers, food, and entertainment.
If you would like more information on this fantastic event, then please visit the official website.
Most of all though, remember to have lots of fun and enjoy.
Details

Category: General
Published: 28 January 2012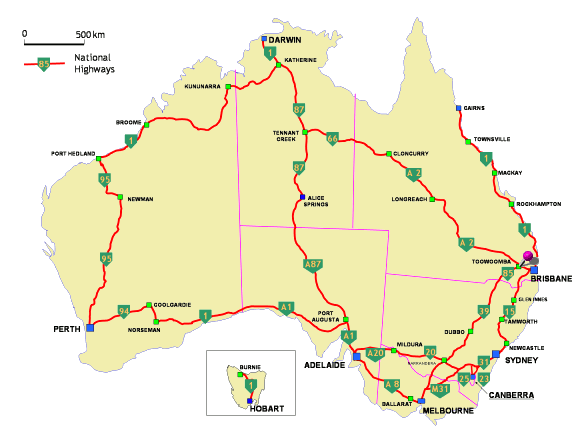 If traveling by coach, Greyhound Australia operates many interstate services from across Australia. Alternatively, flights can be caught from any major capital city to Brisbane and then either a coach or air service from Brisbane to Toowoomba.

If traveling by car, there are many interconnecting highways which feed into the Darling Downs region where Toowoomba is situated.
Useful links: Highways in Australia.
Details

Category: General
Published: 28 January 2012
Crest:
A violet and sprig of wattle in saltire tied with a red ribbon is used as the crest in Toowoomba's coat of arms. The wattle and violet are Toowoomba's floral emblems and represent the cities colours of gold and purple respectively. The colours were adopted by the city in 1932.

Wreath (Torse):
In keeping with tradition, the wreath features the same heraldic colour (red) and heraldic metal (gold) as the mantling. It consists of two ribbons coupled together by twisting them several times, then wound around the helmet, designed to hold the mantling securely in place.

Mantling (Trimming):
The mantling streaming from the helmet consists of a heraldic colour (Red) on one side and a heraldic metal (Gold) on the other side.

Helmet (Helm):
The helmet, sitting atop the shield, is a carry over from the days when a coat of arms was used to distinguish combatants on the battlefield.

Shield:
The shield of the Toowoomba coat of arms is divided into four fields. The charges that occupy the four fields and their origin and meaning are summarized as follows:


1st Field - Horse head on gold background

The horse played an important role in Toowoomba's pioneer days, serving predominantly in the areas of agriculture and transport. The purple horses head on gold background represent the colours of this extraordinary garden city.


2nd Field - Golden Fleece (Sheepskin) on red background

The Golden Fleece symbolizes the sheep that would have grazed on lush pastures. The red background could possibly symbolize Toowoomba's volcanic rich red soil.


3rd Field - Sheaf of wheat on blue background

Wheat grain was the main production crop in Toowoomba's early days. The blue background symbolizes clear skies of the Sunshine State.


4th Field - Emu on gold background

The emu, a large native bird and unofficial faunal emblem of Australia was originally intended to be used as one of the supporters of the shield. This was decided against as the Australian coat of arms already had a kangaroo and emu as supporters. Instead it was incorporated into the 4th field.


Supporters:
Two kangaroos are used as supporters of the shield. A sprig of wattle is placed on each kangaroos shoulder to make it easily identifiable from other coat of arms.

Compartment:
A grassy mount is used as the compartment upon which the two supporting kangaroos, shield and scroll of Toowoomba's motto rest.

Motto:
Toowoomba's motto, the Latin Prodimus Dum Crescimus, translates to We prosper as we grow, indicating Toowoomba's prosperity and progression as a city.

Useful Links: Coat of Arms
Please report inaccuracies: Contact
Details

Category: Historical
Published: 28 January 2012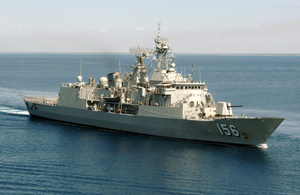 Two Royal Australian Navy (RAN) ships are named after the city of Toowoomba.

HMAS (Her or His Majesty's Australian Ship) Toowoomba 1 (J 157), a Bathurst Class Corvette (aka minesweeper). Built during WWII, it was laid down on 6th August 1940, launched on 26th March 1941, and commissioned on the 9th October 1941. It's service with the RAN ended on 5th July 1946. From there on HMAS Toowoomba 1 was transferred to the Royal Netherlands Navy and renamed Boeroe. Boeroe was decommissioned from the RNN in 1958.

HMAS Toowoomba II (pictured) was laid down on 26th July 2002, launched 16th May 2003, and commissioned on 8th October 2005. HMAS Toowoomba is a long range frigate.

Useful Links:

HMAS Toowoomba 1 (J 157)
HMAS Toowoomba II (FFH 156)
Details

Category: General
Published: 28 January 2012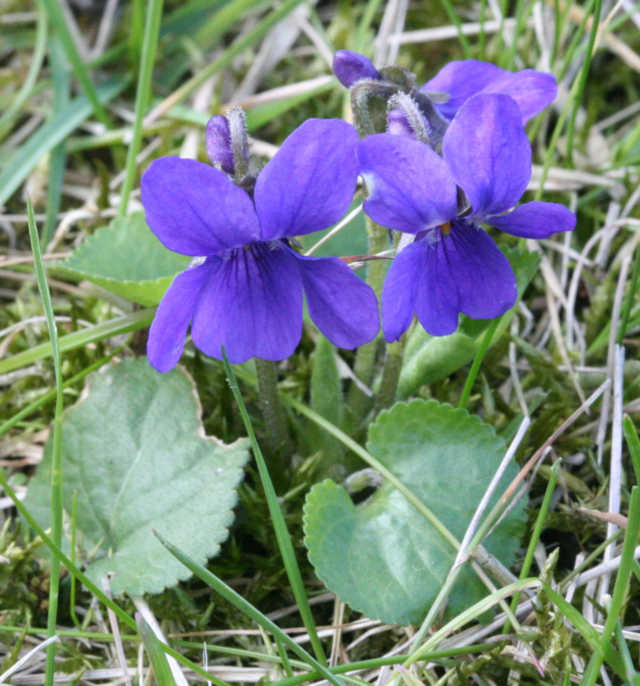 Toowoomba's floral emblem, the Viola Odorata is a species of the genus Viola. Commonly known as the Sweet Violet it actually is a European native. It's significance to Toowoomba and hence it being known around Toowoomba as the 'Toowoomba Violet' can best be explained by the following extraction that was found on Jean Ann French's Blog.

Toowoomba Violet – Floral Emblem Viola Odorata "Princess of Wales" commonly known as the "Sweet Violet"

The violet was declared Toowoomba's Floral Emblem at a meeting of Council on 11th January 1932. the mothers and other family members of the lads who went to war in 1914-1918, picked and sold bunches of violets to raise funds. the bunches each held 50 blooms and three leaves, tied with cotton and were sold for threepence. 1800 pounds were raised to build the Mother's Memorial now located in East Creek Park.

Characterized by it's sweet scent, heart shaped leaves, and vibrant violet colour, there is more to the Toowoomba Violet than first meets the eye.

Besides it superficial attributes the Viola Odorata has other applications. It has long been known for it's alternative medicinal properties which is commonly used for the treatment of respiratory conditions like sore throats. Other medicinal aspects of the plant are also being studied from a scientific perspective.

The Viola Odorata's usefulness continues, where in cooking the flower can also be used as an ingredient in salads and for decorative purposes . It's cooking practicality is not just limited to the flower but in fact every part of the plant can be used. Tea, for example can be made from using the whole plant.

From a symbolic point of view, the Sweet Violet's significance goes as far back as Ancient Greece where the plant was linked with love and romance.

To discover further useful information about this amazing plant that is the 'Toowoomba Violet' one only has to Google 'Sweet Violet' or 'Viola Odorata'.

Useful Links: Viola Odorata.
Details

Category: General
Published: 28 January 2012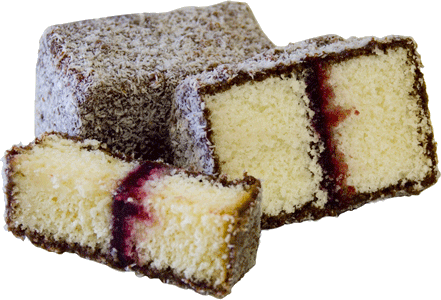 Toowoomba is said to be home to the humble Australian cake, the Lamington. Although this seems to be a disputed fact amongst other Australian and overseas places who also lay claim to being the originator of the Lamington, the proof seems to weigh more towards Toowoomba than any other place.

Lamingtons are so named after Charles Cochrane-Baillie (2nd Baron Lamington) who was governor of Queensland from 1896-1901.

The story goes something like this:

During the Summer months, the Governor would escape the higher temperatures of Brisbane and retreat to Harlaxton House in Toowoomba where the climate was much more comfortable and relaxing.

While there one day, the Governors chef, Armand Gallad was requested to serve desert at a moments notice for unscheduled guests.

With what limited ingredients the chef was able to find in the kitchen and a bit of imagination the Lamington was born. The chef was able to cut up some left over sponge cake into cubes, dip them into melted chocolate, and whether by accident or intention drop the chocolate dipped cake into a bowl of desiccated coconut.

Furthermore the guests were so impressed, they requested the receipt which spread to become a popular Australian icon as it is today.

There are other variations to this story, and some totally different theories as well as to where and how the lamington was made.
Useful links:
Details

Category: General
Published: 28 January 2012
Toowoomba is located in south-east Queensland just 127Km west of Brisbane, sitting right on the edge of the Great Dividing Range.